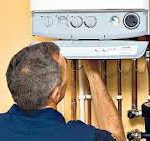 Stay safe and comfortable with our excellent gas boiler maintenance in Birkenhead from Cureton Gas. We have more than two decades' experience in this sector. Central heating, boilers, and power flushing are the areas where our teams can assist you. We specialise in installation and repair of heating systems in domestic premises. Our expert team provides expert installation along with attractive finance options. This makes us the best one-stop shop for all your requirements. We offer reliable, affordable and top quality maintenance for all the leading brands of gas boilers.
For building owners in Birkenhead gas boiler maintenance is of vital importance to protect yourself and your loved ones. These appliances could be highly hazardous if they begin to emit noxious fumes of carbon monoxide. Over-heating could result in explosions that can endanger lives and cause serious injuries. You can also save money if small problems are immediately identified and fixed. This avoids larger expenses at a later stage. Another crucial aspect of regular maintenance is that it keeps your insurance coverage valid. Maintenance helps to protect warranties and ensure compliance with the insurance contract that you have. Most policies have different maintenance milestones that you need to comply with. In case parts need replacing, your warranties remain intact only if the appliance has had regular maintenance according to schedule.
Our highly trained, experienced and reliable engineers carry out gas boiler maintenance in Birkenhead. They have the necessary qualifications and equipment for the job. Typically, they would thoroughly clean the heat exchanger and oil burner, while inspecting it minutely for any signs of wear and tear. The nozzle filter may need renewal, along with re-assembling/testing in keeping with OFTEC requirements. The condition of the oil tank must also be inspected and ensured that it meets the requirements of the Environmental Laws. If you need gas boiler maintenance services, contact Cureton Gas. We have the right solutions for you, at the right time and price. Whether your boiler is new or old, it needs to be given lots of care and attention.